Wednesday, March 10th, 2010
Good old Kangax has been playing with HTML minification and has shared his new tool in an early stage.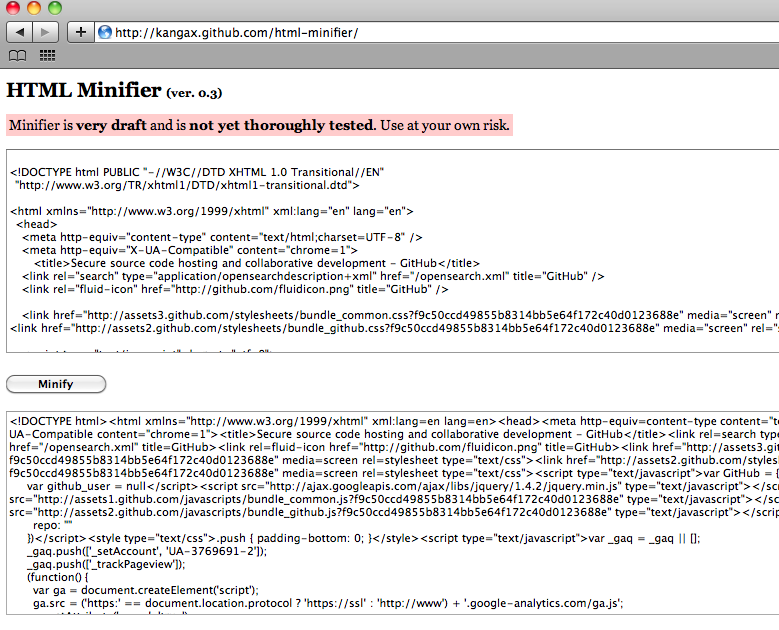 What does it do?
Kangax has forked John Resig's HTML parser which parses the HTML and sends that into the Minifier. This has rules that do things like whitespace optimization, comment removal, and collapsing boolean attributes (e.g. disabled="true" -> disabled).
He also has a linter going:
While working on minifier, I realized that oftentimes the most wasteful part of the markup is not white space, comments or boolean attributes, but inline styles, scripts, presentational or deprecated elements and attributes. None of these can be simply stripped, as that could affect state of the document and is just too obtrusive. What can be done, however, is reporting of these occurences to the user. HTMLLint is even a smaller script, whose job is exactly that—to log any deprecated or presentational elements/attributes encountered during parsing. Additionally, it detects event attributes (e.g. onclick, onmouseover, etc.). The rationale for this is that moving contents of event attributes to external script allows to take advantage of resource caching.
Posted by Dion Almaer at 6:14 am
17 Comments
3.6 rating from 32 votes