Wednesday, January 10th, 2007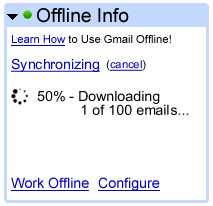 Brad Neuberg created some examples of offline projects in order to find a common UI or offline web applications for the Dojo Offline Toolkit.
He has put together examples for Gmail, Blogger, and a corporate portal.
Gmail Example
The first thing to notice is the addition of a new widget on the left-hand side of the page, the Offline Info widget. This widget encapsulates all of our offline functionality for Gmail.

If the Dojo Offline Toolkit is installed and you sign into Gmail, Gmail will automatically download your 100 newest emails into the offline cache. Now you can access Gmail offline to read your newest emails or compose new ones. When you sign back on your emails will be automatically synced and uploaded.
Blogger
On page load, Blogger would automatically download the last 10 blog posts, including images used in those posts. Individual blog posts indicate next to them if they have been locally modified ("modified offline"). If a blog post is not downloaded offline yet, the link "Download offline" appears, which when clicked causes the Offline Info widget to show download progress information, just like a sync. If you have local items that have not been synced, and have elected to sync manually, a small '(recommended)' label will appear next to the Synchronize button.

The rest of the offline UI is pretty much the same, including the DOT download page, the syncing UI, and the configuration UI. The configuration UI might possibly have a small number of application-specific configuration, such as "[10] Newest Posts Synced," where [] is a text field that can take a number.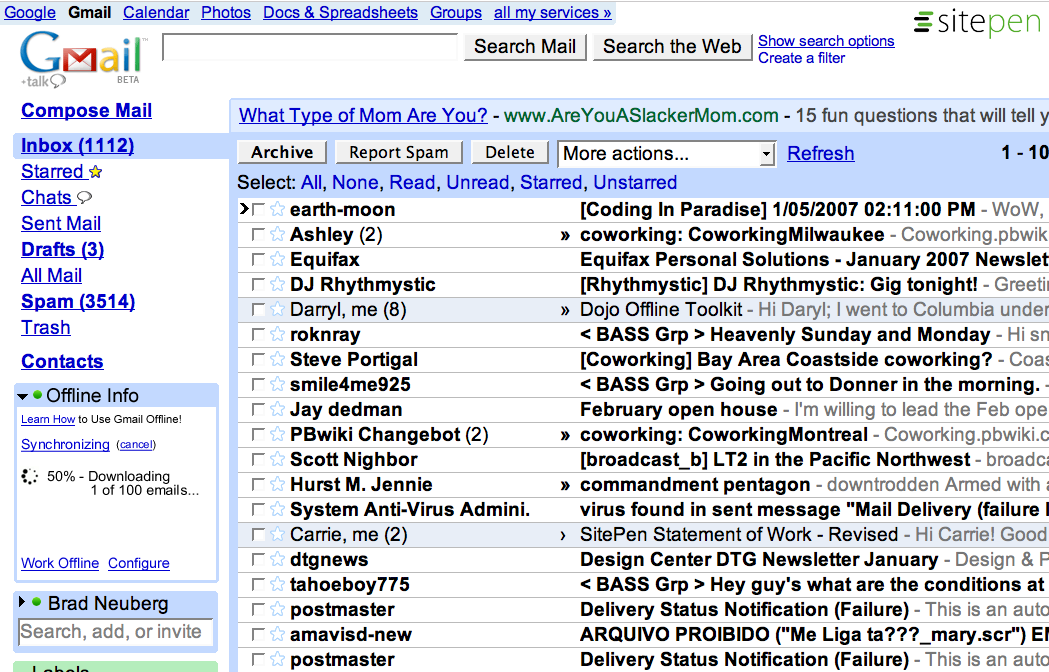 Posted by Dion Almaer at 9:34 am
6 Comments
3.6 rating from 21 votes