Wednesday, June 4th, 2008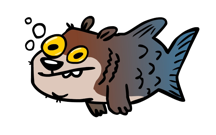 Watching people discuss SquirrelFish has been a real pleasure. The WebKit team set the tone with their initial technical detail. Instead of a post saying "We have a fast JSVM now. woohoo!", they told us why it is faster, and what they can work on from here.
The community is continuing the conversation. David Mandelin of Mozilla, who has been doing a great job discussing Tamarin internals, shared his look at SquirrelFish and the improvements: Using a bytecode interpreter, Using direct-threaded interpreter dispatch, Using a register-based bytecode interpreter.
David built microbenchmarks to test out the direct-threaded dispatch and register-based interpreter. I bet Parrot and Dalvik folk are looking at this too (register based).
Take a peak at the bytecodes.
Also, Charles Ying looked at how SquirrelFish is faster than Tamarin, and Mason Chang did the same, comparing SquirrelFish and SpiderMonkey.
Posted by Dion Almaer at 7:27 am
5 Comments
4.3 rating from 26 votes