Sunday, August 20th, 2006
Leland Scott let us know about the Web Kit teams latest Web Inspector debugging tool.
On downloading a new build of WebKit today, I found that Web Inspector finally can provide those critical Metrics and Properties of each DOM element on my web pages. And boy, have they done a great job in the implementation! Every bit as cool and functional as the original bits, so I can now get all the details on any element of the page with a right-click of my mouse (control-click for some folks) and a simple selection of "Inspect Element." Now come on Firebug fans, don't you wish you could inspect an element that easily?

Seriously, though, Web Inspector's chief virtues—the characteristics that have made me anticipate this day for so long now—are its ability to let me quickly focus on one part of a page at a time, and to just as quickly and easily expand the scope of my focus to take in a larger context.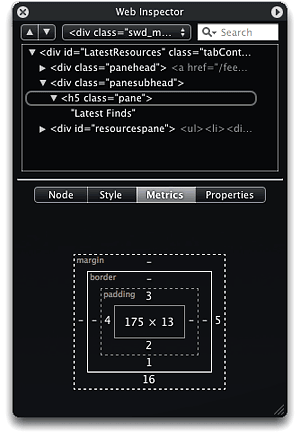 I can't wait to have this in a non-nightly build, but rather in Safari itself!
Posted by Dion Almaer at 11:25 pm
7 Comments
4.4 rating from 18 votes