Thursday, April 15th, 2010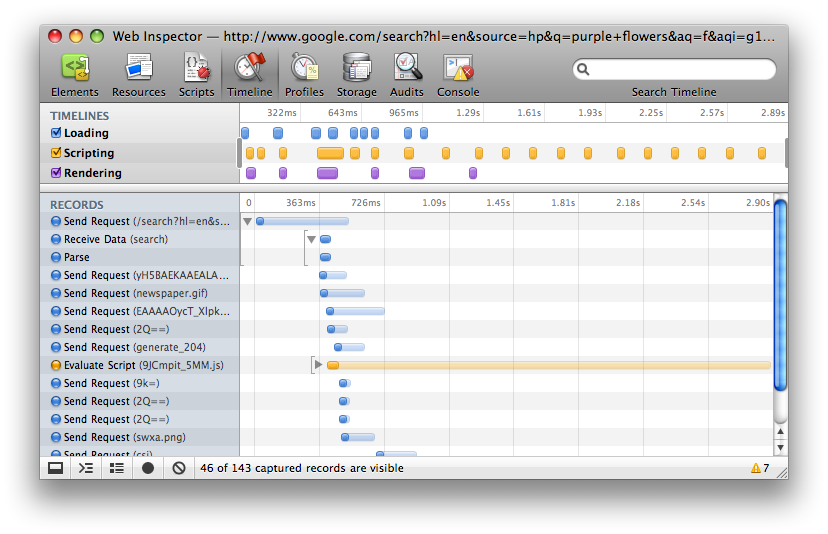 Pavel Feldman has introduced some great improvements to the WebKit inspector.
There are some great new panels available:
Timeline Panel
The Timeline Panel provides you with a detailed view of what's happening inside your browser as you surf. It allows you to zoom into the areas of interest, expand the nested records and investigate their details. The Timeline organizes nesting based on event causation. So, if a mouse down event handler sets a timer, which upon firing loads a resource using XHR, which later evaluates the result when the resource becomes available; then all the events caused by the mouse down will be placed under the mouse down umbrella. Solid parts of the bars show synchronous time spent on the operation, while the semi-transparent part shows the time consumed by everything this event caused (not necessarily synchronously).
Audits Panel
Audit results provide you with hints on unused resources, caching optimizations, the number of resources to load per domain, image tag parameters and many other suggestions. We'd like to make the audits framework extensible so that everyone can contribute checks for various categories such as mobile browsing, security, and static code analysis.
Dedicated Console Panel
You can now enjoy a large and powerful inspector console in a dedicated panel. Note that you can use panel switching shortcuts such as Command-[ and Command-] as mentioned in one of the previous posts.
To go along with these great new panels, there are also a ton of improvement to the other views that you know and love. My favorite is that you can now finally "Edit as HTML" in the DOM inspector. No more node ugliness.
Read the full post for all of the goodness.
Posted by Dion Almaer at 12:22 am
9 Comments
4.6 rating from 35 votes