Friday, March 20th, 2009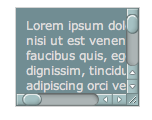 There are a couple of camps out there that like to argue between "let me change anything I want" and "don't give developers power as they will build crappy things."
In today's context, that would be "have you seen the crappy Flash scrollbars that are SO hard to use?"
After having to deal with this in Bespin, I am very happy to see that Dave Hyatt and co have added the ability to style scrollbars via CSS:
The scrollbar pseudo-element indicates that an object should use a custom scrollbar. When this pseudo element is present, WebKit will turn off its built-in scrollbar rendering and just use the information provided in CSS.

The width and height properties on the scrollbar element indicate the width of the vertical scrollbar and the height of the horizontal scrollbar. Percentages can be specified for these values as well, in which case the scrollbar will consume that percentage of the viewport area.

A scrollbar consists of scrollbar buttons and a track. The track itself is further subdivided into track pieces and a thumb. The track pieces represent the areas above and below the thumb.

In addition the scrollbar corner can now be styled, as well as the resizer used by resizable textareas.

Here is a complete list of all the new pseudo-elements. All of these pseudo-elements must be prefixed with -webkit-.


scrollbar
scrollbar-button
scrollbar-track
scrollbar-track-piece
scrollbar-thumb
scrollbar-corner
resizer


Each of these objects can be styled with borders, shadows, background images, and so on to create completely custom scrollbars that will still honor the settings of the operating system as far as button placement and click behavior.
James Roe (in a comment) pointed to the various hacky ways in which we have had to do this in the past:
Creating out own scrollbars and messing with positioning divs begone! I can think of a couple of places that I can use this in Bespin off the top of my head.
Posted by Dion Almaer at 1:10 am
16 Comments
3.1 rating from 34 votes