Thursday, October 25th, 2007
The WebRunner team has added the ability to add style to your application. Mark Fingle said it well:
One new feature we added to WebRunner is web application styling or theming. You can drop a "webapp.css" file in the bundle and it will be applied to the hosted web application. You can also use platform-specific folders in the bundle to apply specific CSS based on the current platform (Windows, Mac or Linux). We'll put more details up on the wiki when the feature is released. In the meantime, here is a screenshot of Google Reader hosted in WebRunner, running on Mac, using Jon Hicks' excellent CSS theme.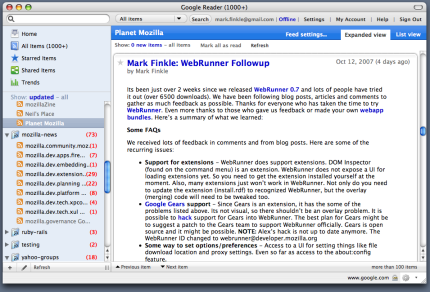 Posted by Dion Almaer at 9:19 am
3 Comments
2.6 rating from 40 votes