Monday, July 30th, 2007
Julien Lecomte of Yahoo! has written a YUI-based image cropper widget that allows you to easily select which region of an image you'd like to crop. This widget works on all A-grade browsers in both standards mode and quirks mode.
Once you setup the CSS and JavaScript you simply:
new YAHOO.widget.ImageCropper( "myImageId" );
Oh, and you probably want to do something with a hook on the backend.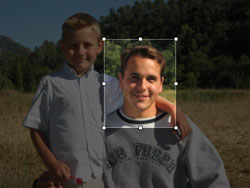 Also, Julien has discussed implementing a scriptable XPCOM Component and an iPhone version of Y! Search.
Posted by Dion Almaer at 4:48 am
8 Comments
2.6 rating from 68 votes